The region's economy took a significant step forward Monday with the announcement of a $3 million federal grant by U.S. Sen. Jerry Moran (R-Kan.), who was joined in making that announcement by PSU President Dan Shipp and PSU Chief Strategy Officer Shawn Naccarato.
The announcement was made at the university's Tyler Research Center, home to the National Institute for Materials Advancement (NIMA).
There, internationally recognized scientists work with faculty and students from the College of Technology and the Polymer Chemistry Initiative, along with state and federal agencies, to find ways to use sustainable materials to create products that can be commercialized — products like a new battery made from coffee grounds, a new golf ball made from soybean waste, and a type of non-flammable foam made from castor oil.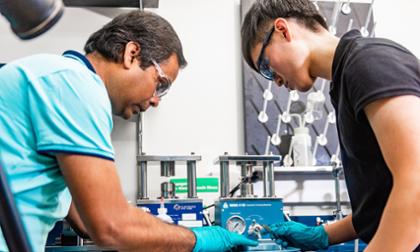 The funds will launch the Center for Commercialization, which will take the research being done by NIMA to the next level.
"This will allow us bring in business partners and help us create economic development teams to build a plastics and polymers industry," said Executive Director Tim Dawsey, who said such a center has been a goal for seven or eight years. "There is nobody within 300 miles of here who has the capabilities we have."
It will lead to a "prove-out center," which will create and reshore manufacturing jobs for products currently purchased overseas.
"I have a dream for my state…I recognize that while we have lots of attributes in our economy, lots of pillars, how good it would be if we could add science, mathematics, engineering, and research, to that component," Moran said, "so we have in place not only students who are learning here, but economic activities that create jobs and opportunities for people to pursue their dreams in Kansas. This is one more step."
Shipp praised Moran for his partnership with PSU and Pittsburg over the years in building the local economy, which has in turn grown the community. As a state senator, Moran helped PSU secure funding to finish the Kansas Technology Center in 1995, just around the corner from the Tyler Research Center.
Today, Moran serves on the U.S. Senate Appropriations Committee, which has jurisdiction over all discretionary spending legislation in the Senate. Naccarato said the work done at the Tyler Research Center would not have been possible without him.
"Since 2015, Sen. Moran has secured for us nearly $8 million to fund, launch, and advance materials science, and now, commercialization focused on jobs and the creation of opportunity and shared prosperity throughout our entire Southeast Kansas Region and the State of Kansas," Naccarato said.
Among those in attendance were Pittsburg City Manager Daron Hall and Pittsburg Area Chamber of Commerce President Blake Benson, both of whom said the new center will have a significant impact on not just the local economy, but the entire region.
NIMA and the center align with the strategic plans at the Kansas Board of Regents and the Kansas Department of Commerce for job creation.
Learn more about NIMA.