Pittsburg State University Associate Professor Ram Gupta has been named to the list of the top 2 percent of scientists in the world, a list released by Stanford University this fall.
While he's flattered by the honor and loves being in a research lab, what makes him most proud, he said, is the success of his students.
"I came here for the chance to teach in addition to research," he said. "The important thing with my previous jobs was that I was a scientist, doing research, but there was not much opportunity to be involved with students in daily activities."
"I thought small universities are very good for that — teach them, mentor them in research activities. That's what I wanted to do, and I thought this was a good opportunity."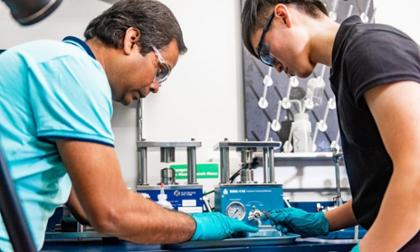 Gupta works on research with former graduate student Jonghyun Choi, who now has a job with Intel.
A focus on energy
Gupta, 46, grew up in India, where he was a curious child when it came to science. He went on to earn a doctorate in chemistry and developed an expertise in conducting polymers for use in electronic devices.
"We had a crisis back in India with the energy supply," he said. "Emergency power supplies are very important. I wanted to focus on eco-friendly, high-performance devices. I've always been interested in science — it makes me very happy when I read it and apply it in real life applications."
In 2013, he was invited to join the faculty at PSU for the new Polymer Chemistry Initiative after having worked as a senior research scientist at North Carolina A&T State University, in Greensboro. There, he participated in groundbreaking research for the National Science Foundation, like developing products for biomedical applications.
Here, he would have something he was missing in North Carolina: a unique chance to teach in the Chemistry Department and have his own lab in the Kansas Polymer Research Center where he could conduct research alongside students.
With the support of fellow faculty and staff, Gupta set out to develop the graduate level chemistry program. And he and his wife, Rajani, and their daughter, Anjali — now a senior at PHS and one of his interns — began settling in to make Pittsburg "home."
"Best of both worlds"
Nearly a decade later, the university's polymer program still is unique. Students and scientists are working side by side to discover new, eco-friendly uses for biowaste that could create jobs and revolutionize the polymer industry. And graduates are leaving with skills necessary to assume leadership positions in polymer-related industries, as well as increased chances of qualifying for acceptance into PhD programs in leading institutions and universities.
"It's the best of both worlds," Gupta said. "Here, I get to work with students, industry, and special state and federal grants."
In recent years, he's worked with other staff at the KPRC to develop a summer internship program for high school students and high school teachers and has drawn graduate students from around the world.
He mentors them, works side by side with them in the lab, and together they find ways to turn coffee grounds into batteries, to convert soybean biowaste into flame retardant foam, and other value-added applications.
"We want to take things people aren't using and turn them into something valuable," he said. "This is what I'm teaching to my students: how to use science for the benefit of society."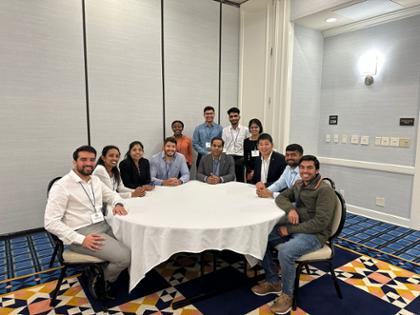 Recognition
He's starting to see the fruits of his labors.
"I have had some pretty proud moments," he said. "One of our students got admitted to Stanford, and another to Cal-Tech. You see students begin to get great ideas, to develop an understanding, and it's amazing to see."
He has been recognized as having edited more than 20 books in the field of polymers and energy. He's helped PSU attract several million dollars in grants from the National Science Foundation, Department of Energy, and other agencies.
And then there's that list.
Compiled by a team of experts, Stanford's list of the top 2 percent of the scientists in the world takes into account the number of publications a scientist has authored, the number of citations that mention that scientist, and the number of other researchers around the world that are following that scientist's work.
"It's a worldwide honor, so yes, I'm pretty happy," Gupta said. "It's an amazing feeling to be recognized like this."
---
Learn more:
Learn more about the research being done at the National Institute of Materials Advancement in the Kansas Polymer Research Center.
Learn more about PSU's Polymer Chemistry Initiative.