As experts across the nation continue to grapple with environmental challenges, students at Pittsburg State University are helping scientists earch for clean energy and eco-friendly solutions.
At the National Institute for Materials Advancement on the campus of Pittsburg State University, they're helping scientists find ways to convert agricultural and household waste — think chicken fat, used coffee grounds, and the parts of the soybean plants that are left in the field after harvest — into sustainable, eco-friendly products.
Or, more scientifically speaking, they're working with polyurethanes, bio-based materials, polymer foams, and electroactive materials.
They're guided by scientists who have come to Pittsburg from around the world to work here and who collaborate with industrial partners, organizations, state and federal agencies, and producer associations to develop and commercialize intellectual property.
The labs give students access to cutting edge equipment like a scanning electron microscope, X-ray diffraction, infrared spectrometer, thermal analyzer, and equipment used for synthesis and electrochemical testing.
Graduate student Prasadi Abeysinghe Arachchil, of Sri Lanka, was so intrigued when she found Pittsburg State University's polymer chemistry program after a Google search that she packed up and traveled 6,000 miles to get here.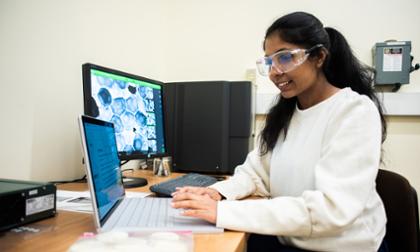 It paid off.
The work she did during the 2021-22 year earned her a national award from the American Chemical Society, the Green Chemistry and Engineering Award.
"It's very prestigious and only a few of them are given out at a national conference each year," said her advisor and lead researcher, Associate Professor Ram Gupta.
Her focus: to replace environmentally harmful substances like petrol with eco-friendly, biodegradable substances — like castor oil, from a plant grown in many countries — in the creation of a fire-retardant foam used for thermal insulation in commercial buildings.
"This is a big deal for me to come here to do this," she said. "It's a big achievement. This place has a good reputation, and I also love this community. It's small and welcoming."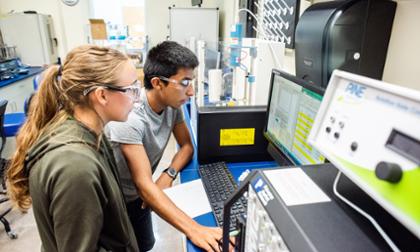 Down the hall in other labs, high school students and recent high school graduates are conducting research this summer through an internship program funded by federal grants.
They, too, are focused on sustainable, eco-friendly products: supercapacitors — or a type of battery — that can fuel cars and cell phones made from coffee grounds, for example.
"I'm already interested in the environment — I started a composting initiative in my hometown," said Emily Welch, a May 2022 graduate of Columbus High School in Columbus, Kansas. She'll be a freshman in polymer chemistry at PSU starting this fall.

"I thought this would give me a head start on doing research and getting involved," she said.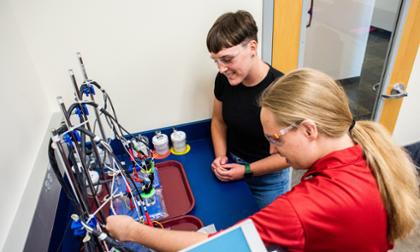 Parker Neely, a rising senior at CHS, also wants to do something in a science field and is considering polymer chemistry as a major; this will allow him to explore the field before he commits, he said.
Athennah Jones, a rising senior at Pittsburg High School, plans to pursue a degree in environmental science, and wanted a solid foundation in research in addition to a summer job in something other than fast food.
The end goal: to one day commercialize these products, and others.
"That will help not only the environment, but translates into job creation, which could prove to be a tipping point for this region," said Tim Dawsey, executive director of the KPRC.
More green, please
A recent global study by the World Wildlife Fund shows the popularity of internet searches for sustainable goods in 54 nations has increased globally by 71 percent in the past five years.
And, a study conducted by NYU Stern's Center for Sustainable Business shows the number of products marketed as sustainable grew 5.6 times faster between 2013 and 2018 than products that were not.
Learn more
The National Institute for Materials Advancement is located in the Tyler Research Center on the east edge of campus.